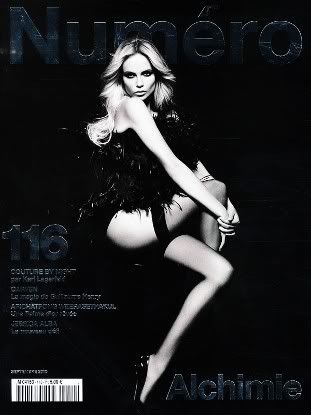 Natasha Poly's cover for Numbero's September issue, shot by Karl Lagerfeld.
What other perfect way to re-start my blog entries than to restart it with the cover of one of my favorite magazines, with my FAVORITE Super Model shot by one of my favorite designers? Could I ask for more?
This past year has been such an amazing year for me, from my trips to Miami to see the best friend of my life, Tavo.. random trips to Las Vegas, NYC and DC to my three week long stay in Barbados/Mykono's with my formerly special someone, White Party maddness, Coachella and all of my amazing friends who made it from LA to my house for the weekend and Los Angeles Pride, I have gotten the chance to experience life with no restrictions.
It has truly been the year that I dreamt of when I first agreed to make it the year of travel and new experiences. It has also been my 2nd month of continued sobriety, which I have nothing less than amazing feelings about. It's not that I went out of my way to make this personal decision, it just sort of happened when I left for Greece.. My body looks amazing! I never knew how easy it was to have a 6 pack, haha.. Between my 630am runs and my 7pm swims, I'm totally in the swing of taking optimal care of myself.
Whats next? I'm finally on my way back to LA, full time. With my new mind set and dedicated life choices I am so excited to give my life another shot. Between looking for college options, moving in with someone who holds a special place in my heart, and finally having a full out lust for life I feel like once again I am ready and willing to except all the great and amazing things that await my tomorrows.
So here's to all things great, tonight, tomorrow and the next day =)